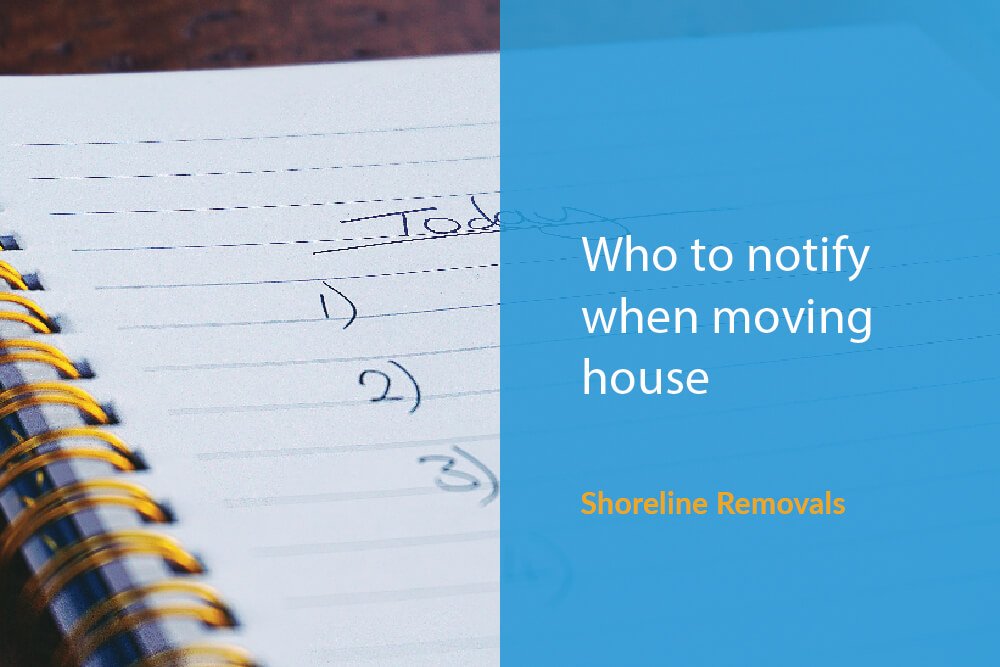 As you are probably well aware, moving house is stressful. There is an abundance of things to do so it can be easy for some tasks to slip through the gaps. Once you have completed all of the major jobs that need doing, it is essential that you remember to start notifying companies of your situation. It is understandable that this can seem like quite a daunting task. Depending on how long you have lived at your current address for, your list of contacts may be substantially larger than others. So, in order not to feel completely overwhelmed, here you shall have the help you need in knowing who to notify when moving house.
Employer
You're going to have to let your employer know about your moving intentions so that they can update your contact details and they'll also need your new address for your payroll.
HMRC
HMRC need to be kept up to date with your address because it will affect things such as income tax, national insurance, tax credits, and child benefits.
Bank
Whichever bank you are with it is important that you notify them that you are moving house. You may even have to change branches or bank depending on how far the move is. Even if you're only moving locally you still need to inform them so that all of your bank statements are sent to the correct address.
School
If you've got children then this is certainly an important one to keep up to date. You'll end up having a new house number which you'll need to tell the school so that they have reliable contact information. Also, depending on the circumstances of the move, the process can be quite stressful for children so teachers will need to keep an eye on them.
Phone & Internet
When you move you'll need to let your phone company know so that you can get a new phone number and that the bills are sent to the correct address. When it comes to your internet provider, moving house can be the perfect opportunity to find some better deals with your current provider or possibly others.
TV License
Make sure that you update your information for your TV license. This can be done three months in advance on the website. Your TV license will not be valid in your new house until you update your details.
DVLA
This is an incredibly important one. This will make sure your vehicle log book, vehicle tax, and driver's license are up to date. If you do not have a driver's license that has an up to date address then you could be fined £1000 if you get pulled over. Also if your V5C document doesn't have an up to date address that, that could be another £1000 fine. This information can all be updated online in a few minutes.
Medical/Vets
If you don't have pets then ignore the latter but if you do then both of these apply to you. It is important that you make all medically related services aware of your move so that, if they need to, they can transfer all relevant documents to your new healthcare professional.
Recreational/lifestyle
Now, these aren't quite as urgent as some of the other items on this list however if you want to keep your lifestyle consistent then you'll want to keep your contact information up to date with these contacts. This includes gym memberships, magazine subscriptions, regular item subscriptions, and other similar services.
Utilities
When it comes to your utilities including gas, water, and electricity, you are going to want to get in touch with your providers reasonably far in advance to ensure that you have supply once you move in as often it can take quite a few days for it to go through. This can be a good time for you to browse for better deals and to see if there are any cancelation/alteration fees from your provider.
Family and friends
Last but not least it is essential that you let your family and friends know that you are moving. Especially the ones that are closest to you. It would certainly be a shock to find out that you had suddenly moved miles away without even saying goodbye. You may even be able to convince a few of them to lend you a hand on moving day.
Still wondering who to notify when moving?
If you're moving house and are looking for a reliable removal company in North Wales that covers all of North Wales and the North West call our team on 01745 770555, we are always happy to share our years of industry knowledge to help your move be stress-free.